31/05/2019 – Junior Civil Engineer position:
We are seeking a motivated Civil Engineer to join our team at the Coordination department. The role will report to Civil Engineer, and to our office manager.
You will be trained to assist with various tasks relating to Sydney Water projects, with initial assignments such as:
Reinforce our Building Plan Approval team: read and interpret structural and architectural plans, deliver advice to clients and provide technical guidance to our administrative personnel,
Assist our Project Management team for Sydney Water minor and major works projects:

Initial assessment of potential project and preparation of design and project management commercial offers,
Plot existing assets and prepare AutoCAD layouts for designs,
Minor works designs,
Carry out site inspections (for design purposes and to verify works by others).

Ausflow being a humanly sized business, most of the non-technical tasks are also being done in house and depending on your abilities and aspirations, the civil engineer will have opportunities to self-train and take part in various multi skills projects, such as:

Website management, content writing and ongoing SEO management,
Commercial development of the company, finding new leads and new clients,
Take part in the continuous improvement processes and manage QMS/EMS/WHS aspects of the projects.
The right candidate will be welcomed within our team, and through self-training, mentoring by our Civil Engineer and Project Managers, and ongoing opportunities to take part in formal training sessions, the middle term evolutions of the right candidate could include:
Perfect pathway to reaching the much looked after status of Sydney Water recognised C1 then C2 level designer, and experienced Water Servicing Coordinator,
Take part of the internal verifying process for designs, quotes and project management,
Be responsible for their own projects,
Prepare presentations for clients, and develop high marketing and networking commercial skills,
Sydney Water listed site inspector for Major Works,
Put together large tenders, including conceiving and presenting complex work methodologies,
Become certifier for specific engineering (brackets, manhole structures, anchors for example),
Manage subcontractors (engineer specialists, CCTV, external designers).
To be considered for this role, the candidate must:
Hold a Bachelor's degree (or higher) in Civil Engineering, from a recognised tertiary education institution,
Have a driver's licence (for site inspections),
Have at least 6 months experience (relevant internships considered) in a related field. Experience within reputable large corporate companies would be highly regarded,
Have unrestricted full working rights in New South Wales,
Be available to start at very short notice.
The following key attributes will be assessed through your application and interview, and are mandatory requirements to be successful at this position:
Outstanding rigour and attention to detail,
Organizational skills,
Computer literacy,
Will to learn, progress, improve,
Will for a long term commitment,
Physical aptitude to go to work sites,
Good personal presentation,
Outstanding English writing skills,
Good spoken English skills, with ability to talk to new clients and be confident during short presentations and meetings,
Genuine enthusiasm for personal challenges within the architectural and structural sector.
The following skills are not all mandatory but will be highly regarded when considering the applications:
Basic technical programming (such as LISP, Visual Basic, MATLAB, HTML/PHP/MySQL),
AutoCAD proficiency (not mandatory, experience with other Computer Assisted Drawing software will be considered),
Knowledge in stormwater modelling, flood studies, hydraulics, flow calculations,
Additional engineering skills (structural, hydraulics, geophysics, foundations, reinforced concrete),
Knowledge of Australia and NSW's WHS/QMS/EMS policies and standards,
Knowledge of WSA codes (sewer and water),
Previous experiences working for Sydney Water or a related subcontractor,
Knowledge of eDeveloper processes and Sydney Water's policies,
White card.
The successful candidate will be provided with:
Initial 3 months fixed term contract (as a trial period), with genuine will to extend to permanent position for the right person,
Mentorship with our Civil Engineer and experienced project managers,
Training opportunities,
Salary package to be negotiated based on skills and experience. Please write your salary expectations in your cover letter,
Our friendly team is based in the Centre of Balmain in Sydney's Inner West, near Café's, Buses and Ferry Wharves.
Please forward your cover letters and resumes with references to jeanette@ausflowsydney.com.au . Note that to be considered, your application will have to be well presented and customized to match this precise offer. Proofs of your qualifications and experiences will be asked prior to interviews.
We look forward to meeting you for an interview.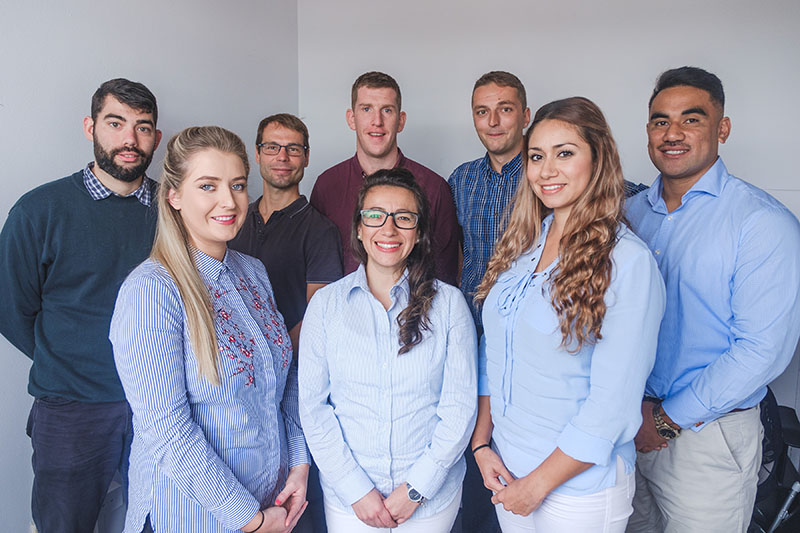 Ausflow Sydney are a Sydney Water accredited Water Servicing Coordinator and Constructor company with expertise in Civil and Water Services. Our construction and coordination/project management departments work with a high focus on meeting Sydney Water's requirements for all aspects of plumbing, pipe laying, coordination and project management for Sydney Water section 73 projects. Gathering various professional, we have created a dynamic working environment with strong opportunities for career development and progression. We are a highly skilled team of Sydney Water Servicing Coordinators, pipe layers, designer, civil engineer and Sydney Water Building Plan Approval assessors. Our local to Balmain company culture offer flexible work arrangements, ongoing support and rewarding salaries to the right people. On top of that, we value team building by being friendly and social, and we actively promote a healthy work/life balance.
Our construction department is constantly looking to hire skilled labourers, pipe layers and operators to sustain our growth and extend our skills. Sydney Water accreditation, operators licences and training are highly regarded so please do not forget to mention them in you CV.
We are committed to encouraging the professional growth and development of all of our staff, consistently fostering opportunities for further education, professional training and mentorship. The diversity of ages, interests and knowledge bases across our company creates an environment that facilitates mentoring and growth across the company.
To express your interest and have a chance to join a growing Sydney Water accredited contractor, WSC and peg out specialist, please email your CV and a brief cover note outlining your aspirations to Ausflow Sydney Careers.